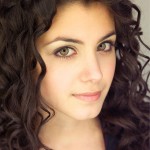 Lastnight (Wednesday, 24 September 2008) Claire and I went to see Katie Melua live in concert at the Grand Arena at Grandwest. It was soooo awesome!!!!
You have to understand I'm a huge! Katie Melua fan… we sat in block C and while they weren't golden circle seats they were still good seats. She was awesome, perhaps even better than on her CD's. She had a very good band with her too, although I really enjoyed the songs where it was just her sitting on a chair playing her guitar. A friend of mine who also went to the concert also said she was awesome and loved the way she just walked on stage and sang her heart out, no mess no fuss. It wasn't a massive "show" no dancers, no expensive effects… just a girl who can sing unbelievalby well and her guitar and an awesome band. The concert was about 2hours long (including the "encore" bit she did) and was way too short.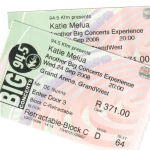 Even Claire who isn't really a Katie fan even enjoyed the music. It was interesting seeing the varienty of people in the crowd, there were young kids in there early teens and 60+ year olds.?
The Grand Arena venue was an awesome venue too, parking wasn't too hard to find there weren't massive queues and the staff were nice and friendly. The place looks awesome inside, the seats where rather comfy and we had a nice view of the stage, sound was good too. What made it really pleasant was that the place was airconditioned to a nice cool temprature.?
Below are some really bad pictures taken with our cellphones (you weren't allowed to take Camera's in…) you can't see much except the bright lights… but trust me the show was awesome!?
Katie Melua Official Website (Nothing but a counter… wonder what its counting down too.)
Katie Melua MySpace Page
Katie Melua Wikipedia Entry