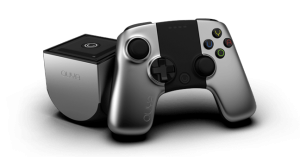 I was a backer of the original OUYA Kickstarter campaign and got my OUYA over a year ago (July 2013). Since then my console has been sitting in amongst the dead DVD players, wires and other junk in my TV cabinet collecting dust.
That is until now when I found a new use for it.
Thanks to a bunch of eBucks (Credit card rewards) and a huge 40% discount we bought a second TV (Sinotech 32″ Full HD). The new TV needed some kind of network connected media player and as I had a very limited budget I decided to re-use my OUYA as a network media player by installing Kodi (XBMC) and getting it a remote.
My chosen remote is a Sony Play Station 3 Blu Ray remote which uses Bluetooth to connect to the OUYA. This remote was marked down as I think everyone is getting rid of their PS3 hardware.
Getting the PS3 Remote working
From the main OUYA menu select MANAGE, then SYSTEM, then ADVANCED. This will get you to the standard Android style settings screen, select the Bluetooth option.
On the next screen you'll need to select SEARCH FOR DEVICES in the top right corner. On the PS3 remote press the Start + Enter buttons at the same time. The remote control should show up under the found devices where you can select it and pair.
Installing Kodi
Follow the instructions here from the Kodi wiki to install it.
Making Kodi auto start on boot
On the OUYA I installed an application called AUTOPILOT from the OUYA store. Autopilot allows you to select an application on the OUYA to automatically start on boot.
The good, the bad and the ugly
The Good
It works rather well as a media player so far and playback is smooth, I still haven't got everything tweaked how I want it but its getting there.
The Bad
The most annoying problem is that pushing the wrong button on the remote control causes it to disconnect from the OUYA and the only way to get it to work again is reboot the OUYA. It appears anything related to the TV/AMP modes of the remote cause this to occur so avoid the AMP & TV buttons as well as the TV & AMPÂ Power buttons.
There is quite a delay between the OUYA starting and Kodi starting, I'm guessing that the AutoPilot application is probably one of the last things to run after the bootup process.