I order a lot of odd items, mostly electronics related, from eBay. @WrathZA gave me the idea to start documenting what arrives and when for those of you who are curious about what you can get, the quality of the items and how long these items take to get here.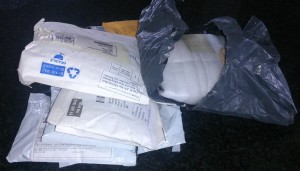 Today I had 14 parcels (originally thought it was 11 until I saw a few got stuck together) all arrive at once at the post office, this is a new record for number of parcels in a week and I assume has a lot to do with the recent problems with international shipping and the SA Post Office.
I'll include photos of the items, links to the eBay entries, original order date and the price I paid in ZAR. Due to the time between order and arrival some of the eBay sales may have ended.
---
2pcs 0.1mm Copper Soldering Solder PPA Repair Enamelled Reel Weld Wire Roll
R 9.98 – Ordered 20 January 2015
2 reels of very thin copper wire.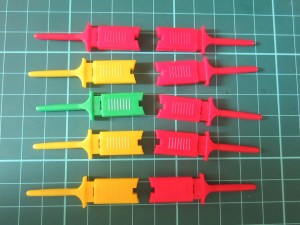 10 Pcs Test Clip Mini Grabber SMD IC Hook Probe Jumper
R 16.34 – Ordered 11 February 2015
Build quality is okay and is what you would expect for any of these cheap grabbers/clips. I'm a little disappointed that I didn't receive 2 of each colour, but that's not often something you can specify on these cheap purchases.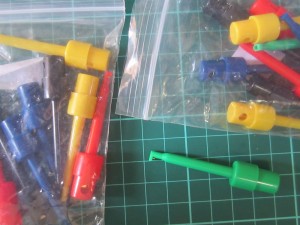 2x 10pcs Large Size Round Single Hook Clip Test Probe for Electronic Testing
R 33.29 (Total) – Ordered 11 February 2015
These are very nicely made and have a very nice spring action to them, came in 5 different colours so I can make some nice test leads.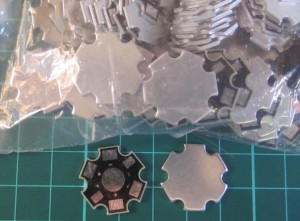 100pcs 20mm High Power Led Aluminium base Plate Heat Sink for 1W 3W Light Lamp
R 49.77 + R 2.13 Shipping – Ordered 11 February 2015
Package was heavier than I though it would be. These are going to need some testing to see if they do the job.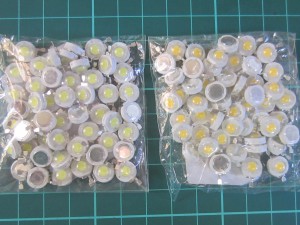 2x 50pcs Brand New 1W White/Warm White High Power Led Lamp Beads 1 Watt
R 86.22 (Total) – Ordered 11 February 2015
I purchased 50 White and 50 Warm White 1W LEDs, these will be soldered to the Aluminium Heat Sinks. I haven't powered any up yet so I can't really give much of a review of the LED.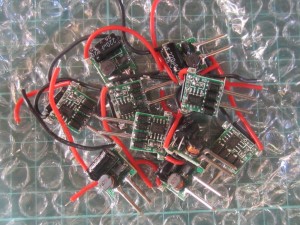 10x 3*1W LED Built-in Driver Power Supply 12V
R 91.58 (Total) – Ordered 11 February 2015
These modules are capable of driving 3x 1W LED's from a 12V supply. Build quality is average, a few skew components, flux residue on the boards etc.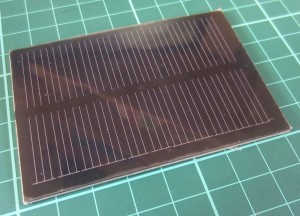 5.5V 180mA PV 87mmx58mm Solar Power Charge Mini Panel Battery Charger
R 48.81 – Ordered 11 February 2015
I'm surprised this one survived shipping as it was just wrapped in bubble wrap which feels like all the bubbles have been popped and then in a slightly padded envelope.
ICSI017A WS2812-4 Programmable Colorful LED Board 5050 highlight NEW
R 88.86 – Ordered 11 February 2015
This ring uses WS2812 LED's which means that each of the LED's can be individually addressed and the color and brightness changed. This is very similar to the adafruit NeoPixel. I don't really have a use for this yet and its rather expensive so I just go the one. It's a pity it didn't have enough to turn it into a clock of some kind.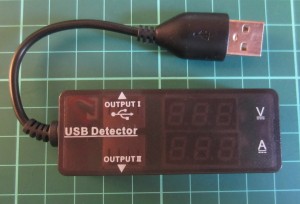 LED Digital USB Charge Doctor Voltage Current Meter Tester Power Detector
R 70.54 – Ordered 12 February 2015
The idea with this device is you plug it into your USB port and then plug your device into it and it'll tell you how much current the device is drawing and what the voltage of your USB port is. The build quality of this device is rather surprising, the device does not feel like its made from cheap plastic at all.
This particular device has 2 USB Ports on it, one has the data and power lines wired up. The other port has only the power wires and is connected for "high current mode" and designed to charge Apple and other similar devices. I've not checked how accurate the device is but I have tested it and it seems to be working correctly.
I've ordered a few other versions of this device too, but they've not yet arrived.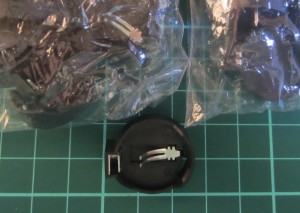 20pcs CR2025 CR2032 Button Coin Cell battery Socket Holder Case Black Colour
R 28.14 – Ordered 27 February 2015
Build quality seems to be okay, but you can't really get this wrong. I have no idea why I ordered these, I must of had some kind of project in mind.
Over the last few weeks a number of different coin cell battery holders have arrived so I must of been planning something, will have to go look at my notes and see what I had in mind.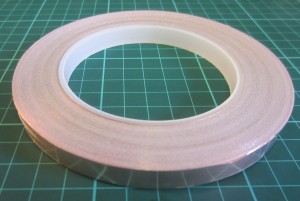 30m * 10mm Single Side Conductive Shield Copper Foil Tape
R 45.39 – Ordered 27 February 2015
It's basically copper foil tape. I have no idea why I ordered this one either, I guess it may come in handy at some point.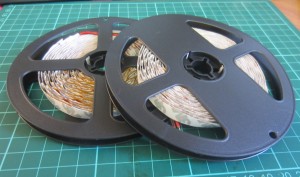 2x 5m 300 LED SMD Flexible LED Strip Fairy Light Xmas Party Decor
R 97.73 (Total) – Ordered 28 February 2015
These are adhesive backed LED strips in "Warm White", these aren't the highest quality LED strips I've seen but they fine considering the price I paid.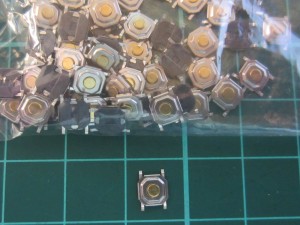 50pcs Stable Tact Switch Button SMD Micro Switch 4x4x1.5mm
R 23.47 – Ordered 28 February 2015
Nice small switches, perfect for reset switches etc on circuit boards.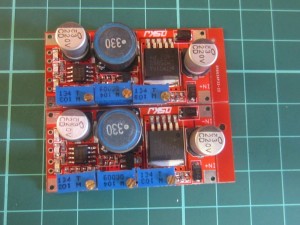 2pcs LM2596 LED Driver DC-DC Step-down Adjustable CC/CV Power Supply Module
R 49.70 – Ordered 01 March 2015
Haven't tested these yet, but build quality appears to be pretty good. I have a few different types of power supply modules like this which I've ordered in the past. eBay is the cheapest source for these kinds of supplies.
---
All the LED stuff I ordered is to build very bright, low power rechargeable lights that can charge off a wall socket/solar so we have some decent lighting during load shedding. The other items are mostly just to stock up my man cave so that I don't to visit a shop or wait for an order to arrive when I'm building something.
Please let me know if you liked this write-up and would like to see more of this kind of thing? Would you be interested in a YouTube version of this kind of mailbag opening?