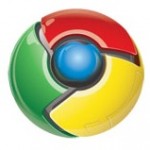 I'm jumping on the current big "band wagon" and going to review the new web browser on the block, Google Chrome. I'm a long time Firefox user, who's tried Apple Safari and various other browsers over the years. On my Windows XP machine I mostly use Firefox 3.0 and Apple Safari.
Today I installed the new Google Chrome, after a friend said it was really cool.?
A quick trip to Google and I had downloaded the installer which downloads the application (I do hate these kinds of installers.) and a few minutes later and I was done and running the browser.?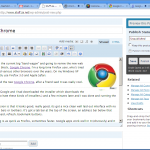 My first impression is that it looks good, really good, its got a nice clean well laid out interface with no "clutter", menu bars or toolbars. It's got a tab bar at the top of the screen, an address bar below that with back, forward, refresh, bookmark buttons.?
So far rendering is as quick as Firefox, sometimes faster. Google apps work well in it (obviously) and it seems to cope with most other AJAX/Javascript enabled websites I visit on a daily basis.
The coolest feature? If a page in a tab causes the browser to crash only that tab dies. If you go read up about it in the Google Chrome Comic they give some details about how this has been implemented, but its an awesome feature. As a long time, extremely heavy (20+ tabs at once) tab user its nice to see a browser designed to fix the problems of a single tab bringing down the whole browser.
I'm not sure yet if Chrome uses less memory than Firefox, which is quiet a memory hog but my system does feel as sluggish when running chrome.?
It's been relatively stable for something that is in "Beta" still, I've had it crash twice so far but both time it was loading pages with movies embedded in them (Not sure what format movies.) and it didn't take out my other open tabs.
So if you like living on the bleeding edge and want to try out a new browser I seriously suggest you give Chrome a try.?
Obviously the big question is what happens to Firefox and the Mozilla Foundation now? Google did help with the development of Firefox, not in a big way as far as I can tell, but still it does leave them in a bit of an awkward position. Firefox has become a big brand though and probably is going to survive for sometime and I don't think a little competition from someone like Google is necessarily a bad thing.