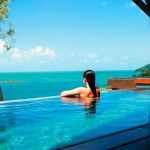 I'm probably a bit late about posting this one, but in case you've missed it here it is.
You could be the caretaker of a small island off the coast of Australia, the job requires you to feed the fish, clean a pool, go for long walks on beautiful sandy beaches, live in a luxury home, go hiking and snorkeling and picking up the mail delivered by plane. I wonder if it includes internet access? The pay for this job isn't bad either $105000 (I assume Australian $'s) to spend 6 months on the island.
The site advertising the job www.islandreefjob.com crashed under the load of thousands of people applying for the position, but it is back up so you can go apply.