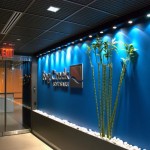 I'm a long time reader of Joel on Software, going on +/- 5 years. I don't always agree with his ideas and I don't follow his every word, but he writes well and he does have a very successfull company that makes some very cool software. I am though truely envious of Fog Creek's offices, I have to admit as a programmer/developer that is the kind of office environment I would love to work in.
Fog Creek (Joel's company) has had a few offices, if I remember correctly they started out in a little brown stone in New York, then moved into what Joel termed 'The Bionic Office' and now finaly they've got there new bigger offices.
Here is the post about the new offices, a link to his Picasa album with lots of photo's of the new offices and finally a floor plan of the new offices on this post about the Fog Creek Open House day.
Warning: If you're stuck in a cubicle working a horrible, soul destroying job these links may make you cry.