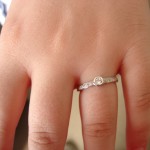 I don't often mention my girlfriend, its more out of respect to her and her privacy but today I'm making an exception.
On Valentines day I asked the love of my life, Claire to marry me. For some it was a huge surprise, for others it was expected and others were just happy I had finally done it.
My proposal didn't go as planned, but then again life never does go according to plan… but in the end at about 11:30pm on the 14th February 2009 I asked the question on my knees in my PJ's, and she said YES 🙂
I didn't realise though that its sortof expected that you know when and where the wedding is going to be… have the guest list already worked out along with the theme of the wedding, catering, DJ's and all that stuff. So for the moment the plans are something along the lines of… It's going to be in the Cape Town area, sometime towards the end of the year, in warm weather and the bride will be wearing some or other shade of white and the "theme" will be… "Wedding" or something like that.
The rest of the stuff we'll work out as time goes by…
PS: You can contact me for details of where to send early wedding gifts (big screen TV's, cars, houses or cash gifts).