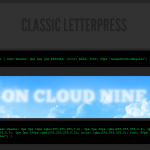 I originally saw this in a tweet from Richard, thought I would link to it here for those who ignore Twitter.
@rjnienaber -?Richard Nienaber
Never thought I'd be impressed by css text-shadow, but I am. Designers take note http://ow.ly/5tpoa
These are some awesome drop shadows done using CSS on text.